Posts for: September, 2018
By Robert S. Mather, DDS
September 20, 2018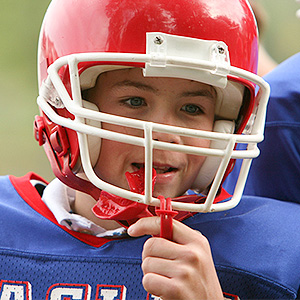 Autumn begins in the month of September, a season that promises cooler days and longer nights. But more significantly for sports fans, September marks the start of football season. Football remains America's favorite spectator sport—and it's also played by countless college and high school athletes, as well as those who enjoy an occasional pickup game in the back yard or on the beach. Yet, like many contact sports, football (even touch football) carries a risk of injury—and one of the areas of the body most vulnerable to injury is the mouth.
Some of the most common dental injuries in contact sports include lacerations (cuts), tooth fractures, displacement (teeth pushed deeper into or out of their sockets), knocked-out teeth, and temporomandibular joint problems. While it's hard to pin down the exact statistics, researchers estimate that over 5 million teeth are avulsed (completely knocked out) every year in the U.S. alone—a significant number of which are due to sports injuries. It is also estimated that the lifetime cost to treat an avulsed tooth ranges from $5,000 to $20,000!
Given the prevalence of sports-related dental injuries, it's no wonder that protective devices have been developed to minimize the risk. Properly fitted mouthguards have been shown time and again to be effective at preventing many types of dental injuries. Yet the use of devices isn't always required by rule-making organizations—and many casual players don't use them at all. That's a shame, because so many of the injuries are preventable.
Custom-made mouthguards are available right here at the dental office. Strong and durable, these protective devices are specially fabricated from a model of the player's own teeth. That means they offer the maximum protection, yet can be comfortably worn during practices, backyard games or championships—an important consideration, since accidents often happen when least expected. (And if you're a parent of a child who plays sports, that's probably something you already know.)
It isn't just football players who can benefit from mouthguards: Those with a passion for soccer, basketball, baseball, martial arts, and dozens of other sports can also get the protection they need from this small (but important) item. So this season, when you're watching or playing your favorite game, think about the extra safety and peace of mind you could gain from a custom-made mouthguard.
If you have questions about custom-made mouthguards, please contact us or schedule an appointment for a consultation. You can learn more by reading the Dear Doctor magazine articles "An Introduction to Sports Injuries & Dentistry" and "Athletic Mouthguards."
By Robert S. Mather, DDS
September 10, 2018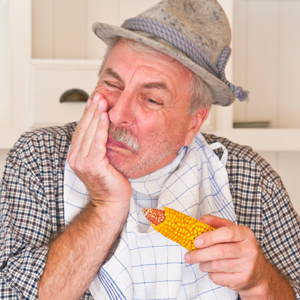 If you suffer from a temporomandibular ("jaw joint") pain disorder (TMD), you know any activity involving jaw movement can be uncomfortable. That includes eating.
But avoiding eating isn't an option—which means you may be attempting to minimize discomfort during flare-ups by choosing soft, processed foods that don't require a lot of jaw force. While this may certainly ease your TMD symptoms, you might also be cheating your health by eating foods not optimally nutritious.
It doesn't have to be a trade-off: with a few simple techniques you can still eat whole, natural foods while minimizing jaw joint pain. Here are 3 tips for making mealtime less stressful during TMD flare-ups.
Cut food into manageable bite sizes. Preparing your food beforehand will make a big difference in how much effort your jaws exert as you eat. Make sure all your food portions of vegetables, fruits or meats are cut or prepared into small, manageable bite sizes. It also helps to remove the tough outer skin of some fruits and vegetables or to mash other foods like potatoes or beans.
Use cooking liquids to soften food. For foods that aren't naturally moist, you can add liquids to soften them and make them easier to chew. Incorporate gravies, sauces or marinating liquids into your meal preparation to help soften tougher foods like poultry, meats or some vegetables.
Go easy with your chewing and biting motion. The strategy here is to minimize jaw movement and force as much as possible. While preparing your food as mentioned before will help a lot, how you bite and chew will also make a big difference. Limit your jaw opening to a comfortable degree, take small bites and chew slowly.
Managing a jaw joint disorder is an ongoing process. When practiced together with other treatments like therapy or medication, eating deliberately can help make life with TMD easier.
If you would like more information on coping with jaw joint disorder, please contact us or schedule an appointment for a consultation. You can also learn more about this topic by reading the Dear Doctor magazine article "What to Eat When TMJ Pain Flares Up."