Posts for: October, 2017
By Robert S. Mather, DDS
October 29, 2017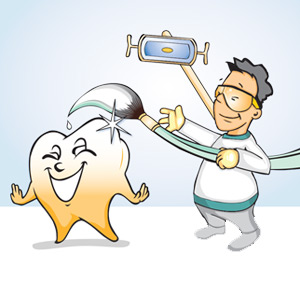 Whether performed in a dental office or using a home kit, teeth whitening applications are quite effective for bleaching exterior (extrinsic) stains on enamel surfaces. But what if your discoloration comes from inside the tooth? In this case, extrinsic teeth whitening won't work — you'll need to undergo an "internal bleaching" method, which can only be performed in a dentist's office.
There are a number of causes for "intrinsic" staining, including too much fluoride exposure or tetracycline use during childhood. One of the more common causes, though, occurs from root canal treatments used to remove the remnants of the pulp tissue inside a tooth's pulp chamber and root canals. Certain cements used during the procedure to help seal in the filling material and leftover blood pigments can cause the tooth to darken over time.
To alleviate this discoloration, we use a bleaching agent, usually sodium perborate mixed with a diluted solution of hydrogen peroxide to achieve a safe, accelerated color change. After determining that the root canal filling is still intact and the bone is healthy, we create a small cavity in the back of the tooth to access the pulp chamber. The chamber is cleaned of any debris or stained material and then thoroughly irrigated. The original root canal filling is then sealed off to prevent leakage from the bleaching agent.
We then place the bleaching agent in the cleaned-out space with a cotton pellet and seal it in with a temporary adhesive. This step is repeated for several days until we achieve the desired shade of white. Once that occurs we then seal the dentin with a more permanent filling and then restore the cavity we created with a composite resin bonded to the enamel and dentin.
If we're successful in achieving the desired color, intrinsic whitening could help you avoid more costly options like veneers or crowns for an otherwise healthy and attractive tooth. The end result would be the same — a beautiful smile without those unsightly stains.
If you would like more information on treating internal tooth stains, please contact us or schedule an appointment for a consultation. You can also learn more about this topic by reading the Dear Doctor magazine article "Whitening Traumatized Teeth."
By Robert S. Mather, DDS
October 14, 2017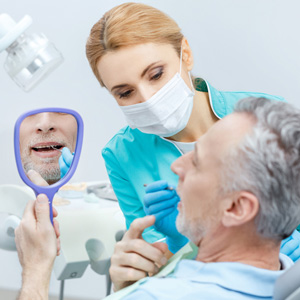 Today's healthcare patients are asking questions. They want to know the "why" behind the "what" that their care providers are recommending for their health.
There's a similar trend in dentistry — and it's one we dentists encourage. We want you to know the "why" behind your treatment options — because you're as much a participant in your own dental health as we are. The more informed you are, the better equipped you'll be to make decisions to maintain or improve your health and the appearance of your smile.
As your dental care partner, it's also essential we help you develop a long-term care plan based on your needs. There are aspects of dental care that are routine: daily brushing and flossing, an oral-friendly diet, and regular dental cleanings and checkups to assess your oral health. But we also need to think strategically, especially if you have risk factors that could impact your future dental health.
To do this we follow a four-step dental care cycle. In Step 1 we identify all the potential risk factors you personally face. These include your potential for dental disease, which could lead to bone and tooth loss, and the state of your bite and jaw structure that could complicate future health. We'll also take into account any factors that could now or eventually affect your smile appearance.
Once we've identified these various factors, we'll then assess their possible impact on your health in Step 2, not just what may be happening now but what potentially could happen in the future. From there we move to Step 3: treating any current issues and initiating preventive measures to protect your future health.
In Step 4 we'll monitor and maintain the level of health we've been able to reach with the preceding steps. We'll continue in this stage until we detect an emerging issue, in which we'll then repeat our cycle of care.
Maintaining this continuum will help reduce the chances of an unpleasant surprise in your dental health. We'll be in a better position to see issues coming and help reduce their impact now so you can continue to have a healthy mouth and an attractive smile.
If you would like more information on planning your dental treatment, please contact us or schedule an appointment for a consultation. You can also learn more about this topic by reading the Dear Doctor magazine article "Successful Dental Treatment: Getting the Best Possible Results."